Illuminate enthusiasm for learning with LUMA
LUMA, a NEW programmable robot by Pitsco, is designed to make coding and robotics fun and approachable for ALL STUDENTS.
Career Connections
Six different careers are highlighted: an inventor, game designer, restaurant owner/chef, event specialist, architect, and sound engineer.
Cross-curricular Activities
Enable students to explore coding and robots through a new lens. Connections to English, math, art, and music are included.
Open-ended Challenges
Students get to flex their creative muscles and apply their knowledge learned during open-ended challenges and exploration activities.

JOIN LUMA'S ADVENTURE
LUMA invites students to embark on an exciting journey where they'll learn all about coding, robotics, and careers.

SPOTLIGHTING COMPUTER SCIENCE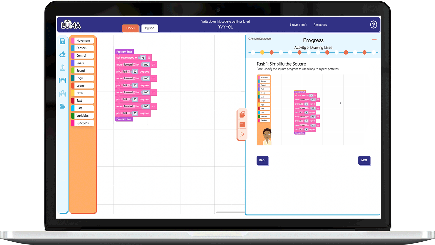 LUMA's standards-aligned curriculum focuses on Grades 4-6 computer science concepts covering:
Impacts of technology
Program design, pseudocode, and algorithms
Decomposing problems
Troubleshooting and debugging
Computational and logical thinking
Code structure (functions, loops, conditionals, and variables)

GET STARTED IN A SNAP
This turnkey solution includes everything teachers need to get their classroom started with LUMA. Plus, no experience is needed for the students or educator.

LUMA is ready to go out of the box – NO ASSEMBLY REQUIRED! Its chassis and shell are compatible with LEGO® technic elements.

Up to 20 HOURS OF CONTENT included. Step-by-step videos are delivered through the LUMA App, so students can follow along as they code.

The LUMA App is 100% web based – NO DOWNLOAD NECESSARY. Progress is saved automatically, so students can pick up right where they left off.

LUMA comes with robust EDUCATOR RESOURCES including PowerPoint lessons, a teacher's guide, a user's guide, and solution code.